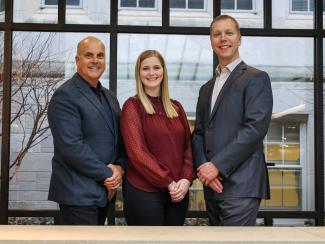 As Seen In Fortune, Entrepreneur & Bloomberg Business Week
Balancing Act
At Research Financial Group, Financial Balance is defined as the achievement of success, not measured by dollars or wealth, but by the attainment of a lifestyle one desires tomorrow as well as today.
In the Finger Lakes region of New York, financial advisors are as ubiquitous as Eastman Kodak history. But families searching for advisors who understand their values must dig a bit deeper. For
more than three decades, mission-driven Rochester families have turned to Research Financial Group for the support they need to help create financial balance.
Don't let the firm's name or the reputation of its founder as being "passionate about economics" fool you. Founded by Salvatore DiCiaccio, CFS, AIF, Research Financial Group is that rare combination of professionalism, sophisticated thinking, and deeply human connection.
"We've become the financial home for families who want to tie their life's values and purposes to their resources," says DiCiaccio, whose background includes experience in banking as well as financial services. "We spend a lot of time building personal relationships with each client in order to help them define their own ideal financial balance."
Backed by Numbers
DiCiaccio is armed with extensive knowledge, including best practices in designing and managing portfolios, utilizing the in-depth resources available through LPL, the nation's leading independent broker-dealer (as reported by Financial Planning magazine in 1996-2022, based on total revenue). His team takes a methodical approach to creating tailored plans designed to help create financial balance for each client. A self-proclaimed "process nut," he uses a methodology that can be utilized, replicated, and tracked for efficiency.
"Our transparent financial models are streamlined in a way that is easy for our clients to understand. Our process becomes their process for success through every stage—from building assets through retirement and legacy planning," he says.
FROM LEFT TO RIGHT: Salvatore DiCiaccio, CFS, AIF, President; Alexandra Storke, Registered Client Services Manager; and Jason Duga, Investment Specialist.
 "I have a proud career serving our special needs community in nonprofit leadership. Financial planning and investments are not a natural talent or interest of mine. I knew that to secure my future retirement, I would need professional advice and direction. I put off a connection for longer than I should because I was intimidated by the process. Sal and his team have made me very comfortable to ask them any question. I feel respected by them for where my strengths are. They listen to who you are—your values, lifestyle, and future plans—and then craft a careful path with you, to meet and exceed your goals. I have never met anyone in financial services that sincerely is looking out for me as a person—and not to sell a  product—like Sal. I encourage you take the leap—you won't regret it."
Gillian C., Community Nonprofit Leader

Does DiCiaccio's business model work?
His performance places him in the top 500 advisors among the more than 21,000 LPL professionals nationwide (achievement is based on annual production). But more telling is the incredible loyalty of clients. The referrals they provide confirms the satisfaction of his efforts to assist with their financial balance.
"Clients are not only paying for the services provided by my highly trained support staff and I, but also the information they receive to make better financial decisions."
"If you do the right thing and stick to your promises, success follows naturally— for clients and their advisor," concludes DiCiaccio.
---
Securities and Advisory Services offered through LPL Financial, a registered investment advisor. Member FINRA & SIPC.